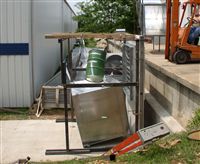 Ruskin introduces their newest UL Products Labor Saver - Universal Flanged Breakaway Connections. Recently, Ruskin became the first manufacturer to successfully test the mating of all flange breakaway connections styles to any other similar or dissimilar connection.
We were the first to give you TDF to TDC connections and now we have included connections made by Ward, Ductmate™ and Nexus.
So whether you get Ruskin factory mounted TDF or Ductmate flanged connections or your contractor utilizes field mounted breakaways, Ruskin has your UL approved answer.
Our universal connections include:
Mixed Flange types in Any Combination
Optional Bolted Corners
Metal or Plastic Cleats
Butyl or Neoprene Gasket
Screw Together Flanges
Here today only on Ruskin fire and fire/smoke dampers!!
Click on this link to view and print our installation supplement showing all the optional flange breakaway connections.
If you need any assistance on selecting and specifying the correct Ruskin louvers, dampers or acoustical products, please be sure to contact your local Ruskin Representative.