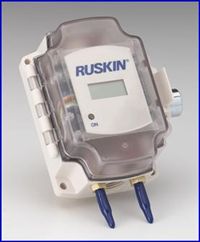 Introducing Ruskin's AMS810  LCD transducer.  Our AMS810 transducer is the perfect complement to your outside air measuring and monitoring products. And now more than ever as outside air measuring and monitoring is required on every VAV HVAC system! 
With an LCD display for actual pressure differential, the AMS810 provides a field selectable output range and several field selectable pressure ranges.  Ruskin's AMS810 comes complete with an auto-zero function that is microprocessor controlled.
Ruskin's AMS810 enclosure carries an IP66 rating, which means that the ingress protection is 100%  effective against dust.  Against liquids, the IP66 enclosure is the highest non-immersed rating possible, protecting the electronic components from heavy seas and powerful water jets.
The AMS810 can be used in conjunction with ALL of Ruskin's
Plus the AMS810 comes standard with a three-year warranty!
Specifiable features of Ruskin Model AMS810 include:
LCD DISPLAY for actual differential pressure.
FIELD SELECTABLE OUTPUT RANGES
0 to 5 VDC
0 to 10 VDC
4 to 20 mA
FIELD SELECTABLE PRESSURE RANGES (INCHES WATER COLUMN)
Unidirectional: 0-0.1", 0-0.25", 0-1.0", 0-2.5", 0-5.0"

Bi-directional: ± 0.1", ± 0.25", ± 1.0", ± 2.5", ± 5.0"
OPERATING RH RANGE
ACCURACY
± 1% on 0-0.1 and ± 0.1 ranges
± 0.5% on all other ranges
AUTO-ZERO FUNCTION
Microprocessor Controlled
To learn more about the Ruskin AMS810 or any of Ruskin's complete line of dampers, louvers, air measuring and sound control products, contact a Ruskin representative nearest you or visit our website at www.ruskin.com.