Damper Leakage Rates - More Important than Ever!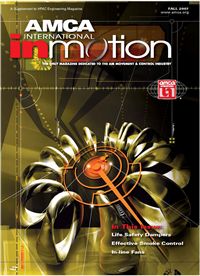 AMCA's Inmotion magazine supplements highlight important industry issues and key solutions to today's HVAC problems.  In the Fall 2007 issue, Ruskin Vice President of Sales and Marketing, John Knapp, explains why in his article Damper Leakage Rates - More Important than Ever!
According to Knapp, "All HVAC dampers, i.e., control, backdraft, fire, smoke, and combination fire/smoke, contribute to the overall efficiency of the air system. With the emphasis on "green," sustainable buildings, IAQ, and energy savings, damper leakage rates are more important than ever. Every CFM counts!"
In this issue of AMCA Inmotion, you'll also learn:
The two main locations for potential damper leakage and how to design for them.
How damper leakage is a function of pressure, not airflow.
How AMCA's Certified Ratings Program (CRP) ensures damper performance every time.
About AMCA's Certified Leakage for Smoke and Combination Fire/Smoke Dampers.