Ruskin is Awarded Large Tunnel Projects
NSBT Selects Ruskin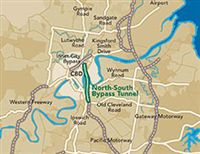 The NSBT project will include dual 4.8 km twin lane tunnels and run under the city between Woolloongabba and Bowen Hills, creating Australia's longest road tunnel.
The tunnels passes under the Brisbane River and will provide relief to the high-traffic bridges currently spanning between the outer city and the Central Business District.  Completion of the project is scheduled for 2010.
The NSBT will also comprise substantial associated surface works to connect the tunnel to the existing road network. The road will incorporate state-of-the-art electronic tolling to integrate seamlessly with other Australian toll roads.