Ruskin Sunshades Cool Your Building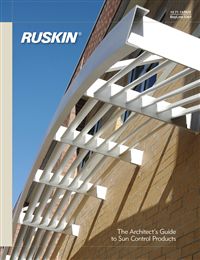 The use of external sunshades and other sun control products are a natural choice for buildings. They save energy and reduce solar heat gained through glazing.
When Ruskin sunshades are utilized to reduce the heat and glare, the designer is freed up to incorporate more glazing that can increase natural lighting and views throughout the building.  Ruskin sunshades are available with a variety of blade and outrigger configurations and virtually any color and our in-house Kynar finishes include a standard 20-year warranty against color chalking, fading and adhesion.
Our new Sunshades brochure is will be available in 2010 Sweet's Directory or by contacting your local Ruskin Representative. 
A sneak peak .pdf version of our sunshade brochure is also available on our website by clicking here.
See Sunshades and all Ruskin 3-D Building Information Modeling (BIM) files by clicking Ruskin's Revit® page.