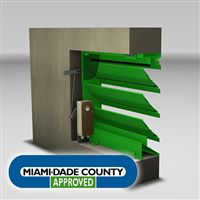 Ruskin model ELC6375DXD – Extruded Combination Louver - wins the Silver Dealer Design Award sponsored by The News in the Ventilation category. This Miami-Dade combination louver is the only one on the market today!
This 6" deep drainable louver includes an integral low leak damper used for outside air openings in buildings. Low pressure drop and high water penetration resistance are also features of the design. Ruskin has tested the ELC6375DXD to the stringent pressure, missile impact and windload procedures of South Florida making it suitable for use in all of Florida and eastern seaboard areas as well as gulf shores.
This ELC6375DXD provides air intake or air exhaust for buildings openings not only in <st1:place w:st="on"><st1:state w:st="on">Florida, but any other hurricane areas globally. It can be used in either forced air or natural ventilation applications. The ELC6375DXD is well equipped to save energy if desired for LEED certification in the areas of Energy and Atmosphere (EAp2 and EAc1). It optimizes energy by only bringing in the right amount of outside air as designated by the HVAC system. When the HVAC system is turned off, the integral airfoil low leak control damper meets IECC codes by allowing very little air to leak outside the building.
Ease of installation is one of the major benefits of the ELC6375DXD. By combining the louver and damper functions into one product, field costs associated with combining them in the field is eliminated. The ELC6375DXD is also Miami-Dade approved as a single product. The installing contractor does not need to worry about adding dampers in the field that might violate the tested installation methods. Access to the actuator or hand quadrant is easily accommodated on the back side of the ELC.
Providing a competitive difference, the ELC6375DXD is a complete louver and low leak damper in on narrow 6" package. Compared to current market products that are 10-12" deep minimum and well beyond that for maximum, if field sleeves are fabricated, the ELC6375DXD is easier and lighter to handle. The ELC6375DXD is the first and currently only combination hurricane louver/outside air low control damper that carries the Miami-Dade County Approval (NOA 08-1211.05) and Florida Product Approval (FL 12232.1).
The ELC6375DXD is approved for use in both open and closed structures with provisions to manage weather infiltration. Rated to ±110 psf windload, this AMCA licensed product can be installed in unlimited widths x 120" high satisfying those systems that require more ventilation. Concealed blade linkage is protected from weather exposure and reduces the required installation depth. Factory installed filter racks, security bars or any type of bird or insect screen complement this incredible package.
Like all Ruskin louvers, the ELC6375DXD is available with a number of factory finishes: Mill, Prime Coat, Baked Enamel (50% Fluoropolymer), Epoxy, Pearledize, 70% Kynar, Clear and Color Anodize. Ruskin Baked Enamel, Pearledize and 70% Kynar all carry the industry's best 20-Year Warranty.