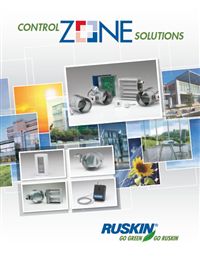 Ruskin's new Zone Control Solutions brochure highlights not only our sophisticated Z2000 Zone Comfort System but also the many individual zone control solutions as well.
Building owners can choose a complete commercial zone control system utilizing our Z2000 Control Panel System. The panel allows a single HVAC unit to control up to 20 individual zones. Each zone is controlled by its own space thermostat and a modulating or two-position zone control damper. Options include:
Discharge Air Temp Sensors
When Z2000 systems are not required, Ruskin offers many individual zone dampers that are easily installed, maintenance free and interface with our hand-held remote damper controller - Ruskin model ZRC020. The remote control is equipped with an integral 9V power supply that operates the damper motor via RJ11 wiring terminating at an RJ11 connector located either at the diffuser or wall box.
Ruskin Individual Zone Dampers also include:
Quick-Connect wall mount or diffuser mount connectors require no special tooling.
Flush mounted wall plates available in single or multiple port arrangements.
The Pulse Damper eliminates the need for cable in the "cable-drive" systems!
Ruskin Zone Systems help you achieve LEED certification for Indoor Environmental Quality (IEQ) by providing:
Minimum IAQ Performance
Increased Ventilation
Controllability of Systems - Thermal Comfort
Thermal Comfort - Design