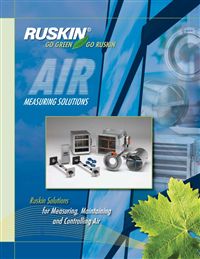 With LEED® stressing the importance of conserving energy while at the same time requiring proper ventilation, having accurate products for flow verification and sustainability is essential.
Airflow measuring products by Ruskin are ideal for any commercial application where air monitoring or air control is required. We utilize both electronic thermal dispersion and velocity pressure air measuring devices throughout our product line with accuracy ratings of +2% up to but not exceeding +5%.  In addition to stand-alone products, only Ruskin can offer the wide variety of dampers and louvers for your projects with integral air measuring devices built right in.  Further, factory calibration and testing eliminates errors in the field.
This brochure includes a design guide and quick reference chart for helping you select the correct air measuring product for fan inlet, outside, exhaust and return air applications.  Following that are 11 pages of air measuring products and photos and the benefits of each.