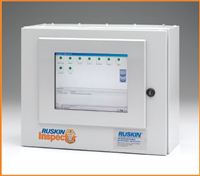 Consultants in the field of fire engineering have long recognized the danger to life and damage to property that can be caused by smoke spread throughout buildings, even when the fire is confined to a small area. Control measures for fire/smoke protection, in old and new buildings, comprise a wide variety of systems and items of equipment that must be carefully integrated in order to ensure maximum safety. One of the most important tasks is performed by the automatic fire and smoke dampers that are incorporated into HVAC systems. In an emergency situation, they must close immediately to first contain the fire and smoke to prevent their spread throughout the duct. Then, secondary measures can take place like reopening the fire/smoke damper to allow smoke extraction to take place.
Ruskin Inspector™ represents a new generation of smoke protection. It has been designed with the user in mind, providing an advanced tool that simplifies installation and commissioning of fire/smoke dampers.
The Panel PC operates on an embedded platform and utilizes solid state technology for optimum reliability. Its server architecture delivers new benefits such as reduced commissioning time and simplified operation for continuous monitoring and automated testing of fire/smoke dampers.
Continuous monitoring and automated testing of fire/smoke dampers.
All life safety product activity is logged and viewable for diagnostics and preventative maintenance.
Solid State Panel PC with GUI interface.
Factory programming and field commissioning to your job site requirements.
Test facility from touch screen GUI.
Twisted-pair network cable, utilizing daisy chain method of wiring to all devices, offering reduced wiring costs.
Devices powered by closest distribution board.
Ideal Applications
Airports
Hospitals
Hotels
Office Buildings
School Campuses