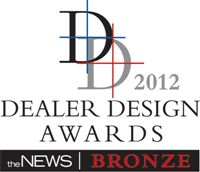 The new Ruskin Inspector™ life safety control system was awarded a bronze medal in the Testing and Monitoring Products category by an independent panel of 29 contractors in the contest that had 81 entries. The ACHR News is a leading trade magazine in the heating, ventilating, air conditioning, and refrigeration industries.
Features of the Ruskin Inspector™ include:
All life safety product activity is logged and viewable for diagnostics and preventative maintenance.

Solid State Panel PC. No moving parts.

Simple Graphical User Interface (GUI) displays all live details/status.

Factory ccommissioning at job site.

Twisted-pair network cable, utilizing daisy chain method of wiring to all devices, offering reduced wiring costs.

Devices powered by closest distribution board.

Allows for phased commissioning and future expansion.

Accommodates any last minute changes to zones, damper quantities, references and descriptions.

Enables standardization of software - no custom site specific versions required.
You can review the Ruskin Inspector™ brochure here or read about a recent project by clicking here.