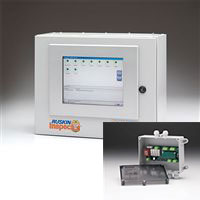 The FSDPC panel operates on an embedded platform and utilizes solid state technology for optimum reliability.  This commissioning guide outlines responsibilities for the electrical and installation contractors for 24/7/365 continuous monitoring and automated testing of fire/smoke dampers.
To support NFPA and fire code requirements for scheduled testing, all fire, smoke and combination fire/smoke dampers shall be wired to a monitoring and testing system (MTS) capable of continuously monitoring the health and status of all life safety devices within the network. The MTS shall have an automated testing feature with a 24 hour integrated time clock to facilitate staged testing during scheduled shut down events. The system shall also include a manual test feature to facilitate inspection of a single damper within the network. MTS shall be connected to a set of contacts at each device.
Contacts shall be linked directly to damper blades to ensure positive blade position. MTS shall be programmed and commissioned by a factory authorized commissioning agent following established ISO9001 standards.