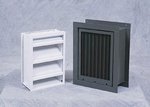 According to the South Florida Building Codes, products installed in the exterior of buildings must be designed to withstand the weather produced by hurricanes. However, widespread failure of these standards as evidenced by the aftermath of Hurricane Andrew in 1992 illustrated the need for stronger standards. With this in mind, the http://www.buildingcodeonline.com Miami-Dade County Florida Building Code Compliance Office developed a series of test protocols that subject products such as louvers to conditions simulating those of hurricane wind and rain conditions.
To gain Miami-Dade County Approval, louvers may be required to pass as many as four different tests-three are structural and one measures wind driven rain penetration resistance. Ruskin was the first manufacturer to gain Miami-Dade County Approval for louvers. Approved louvers include the ELF6375DXD, the EME6625D, and the combination louver/control dampers ELF6375DXD / CD102 and EME6625D / CD50.
For a brief overview of the Miami-Dade County tests, click here.For an engineering report detailing the Miami-Dade County tests, and how Ruskin louvers passed them, click [doc:erhdl-998.pdf]here[/doc].For more information about Ruskin's Hurricane Louvers, contact your local representative, or contact us directly using our contact form or phone at (816)-761-7476.