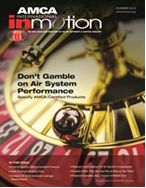 In the AMCA inmotion magazine supplement to the Summer ASHRAE Journal the latest damper and air economizer leakage requirements in U.S Energy Codes and Standards are discussed in detail including California title 24.
This article illustrates how controlling the movement of air both in and out of a building is critical to ensuring proper IAQ (Indoor Air Quality) with the added benefits of minimizing energy consumption, averting condensation, and generally maximizing the total comfort levels of the building's occupants.
The maximum allowable leakage requirements in energy codes and standards for non-residential building envelopes are examined.
The codes and standards covered are as follows:
Similarities and distinctions are highlighted between the damper leakage requirements in the 2015 IECC and the 2013 version of ASHRAE 90.1.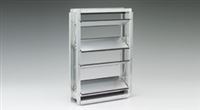 Dampers are shown to be a key component in controlling air intake, exhaust and leakage associated with a building. The types of dampers covered include outdoor air intake and exhaust opening dampers, including those used for economizers.
It is concluded that to ensure compliance with all three building regulations, dampers and air economizers should be purchased with Class 1 performance certification under the AMCA Certified Ratings Program. Building owners and engineers can then be assured in the knowledge that the required leakage performance will be met by the dampers they specify meeting AMCA Class 1.
To read the complete article in detail from the AMCA inmotion magazine supplement Click HERE
Applicable Low Leakage Dampers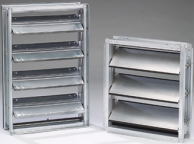 Ruskin offers both CD50 and CD60 Class 1A dampers. The CD50 damper is an extremely low leakage damper designed for use in medium to high pressure commercial HVAC systems. It was the first AMCA licensed low leakage damper. The CD60 offers sturdy, steel construction with an interlocking frame design, enabling it to lock together without bolts, screws, or rivets that could shake loose.