Ruskin is pleased to introduce our new line of moveable blade warehouse louvers, the ELM6DW and ELM90HFA.
These louvers are specifically designed to provide high rates of ventilation air in warehouse applications.
Specifications are as follows: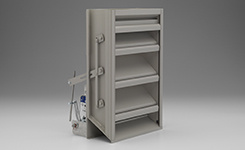 ELM6DW : Adjustable Warehouse Louver
Bears the AMCA Certified Ratings Seal for Both Air Performance and Water Penetration

Low Torque operation and architecturally pleasing appearance with low leakage performance.

Drain gutter in the head frame and each blade: down spouts in jambs and mullions to drain water from louver for minimum water cascade from blade to blade

Jamb seals provide tight blade to frame closure. (Blade seals available as an option)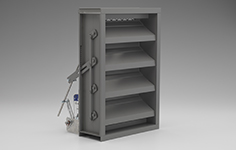 ELM90HFA: Adjustable Warehouse Louver
Adjustable 90° Blade angle and 74% Free Area

Bears the AMCA seal for Air Performance

Hexagonal shaped axles assure positive blade alignment and low operating torque

Concealed blade linkage is protected from weather exposure
The architecturally pleasing Ruskin ELM6DW and ELM90HFA are perfect for warehouse applications that require high rates of ventilation.
Don't forget this Labor Saver:
Ruskin can provide factory mounted and commissioned actuators saving you money and installation time in the field.