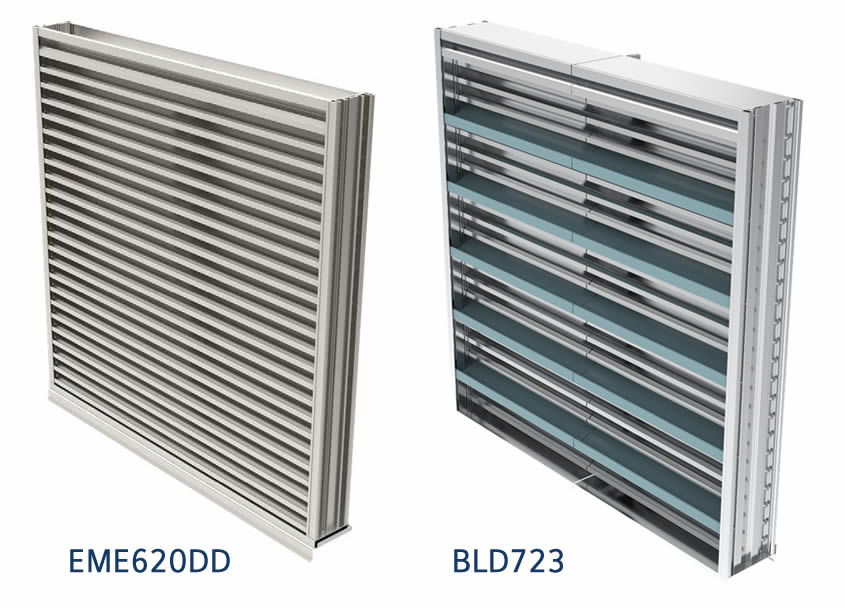 The new EME620DD and BLD723 louvers are wind-driven rain AMCA Certified louvers made for exceptional protection against water, air, and wind penetration.

The EME620DD louver from Ruskin is a newly designed, 6" deep, horizontally bladed louver, made for building applications that require wind driven rain protections.

The BLD723 bold line drainable louver is made with a 7" wind-driven rain accent blade and a 5" deep wind-driven rain resistant blade, providing great wind driven rain and water penetration protection. Ideal for architects who want to make a design statement. The bold "accent" louver blade stands out for architectural appeal. This louver can be produced with hidden or visible mullions.
Features of EME620DD and BLD723:
Pressure drop meets or exceeds all specifications
AMCA certified for Wind Driven Rain – Class A
AMCA certified for Air Performance
AMCA certified for Water Performance​​​​​
Aluminum construction for low maintenance and corrosion resistance
Features of EME620DD:
48% free area meets or exceeds all specifications
Features of BLD723:
46% free area meets or exceeds all specifications
Hidden or Visible mullion
Ruskin offers the EME620DD and BLD723 louvers with a full suite of manufactured options. Ruskin's industry leading 20-year finish warranty and 5-year product warranty will meet customers' needs.
For more information on the EME620DD:
For more information on the BLD723: