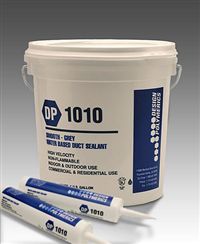 An important principle of UL approved fire and fire/smoke damper installations is the sealant utilized on the duct-to-sleeve breakaway connections.
Ruskin has recently announced the first water-based high velocity duct sealant approved for use on its fire and combination fire/smoke dampers.  The Design Polymerics DP1010 duct sealant is UL listed and meets all SMACNA pressure and seal classes.  The content of DP1010 makes it the ideal choice for increasingly popular environmentally friendly applications and has a Flame Spread and Smoke Developed rating of 0.
Other characteristics of DP1010 include:
Crack and Peel Resistant
Excellent Workability
Mildew Resistant
Non-Flammable
Meets Requirements of NFPA90A & 90B
Can be Painted
Indoor and Outdoor Usage
When choosing the right sealant for your breakaway connections, consider:
Only a few specific sealants have been approved for this purpose
These sealants must be tested with individual manufacturer's UL dampers
If they are not listed on a manufacturer's installation sheet, they are not UL approved
Non-listed sealants could result in a breakaway connections that jeopardize the integrity of the system they are trying to protect
Ruskin has tested more breakaway sealants than any other manufacturer.  All of our installation instructions have been updated to include the DP1010 sealant, as well as other sealants that have been approved for use when installing our dampers.  The installation instructions are available in our online product catalog at www.ruskin.com.    
When looking for labor-saving installation ideas, look no further than Ruskin.