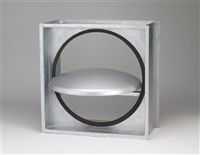 Ruskin PSD Pressure Seal Dampers are ideal for buildings with critical air paths including food facilities, federal buildings, pharmaceutical facilities, laboratories, hospitals, biotech labs, nuclear facilities, chemical process plants and military installations. 
Ruskin PSD dampers are leak tested up to differential pressures of 10" water gauge (2.49 kPa) and are available in standard sizes of 12" (305mm) to 42" (1067mm) square or round duct dimensions.  Transitions are available for smaller sizes 4" (102mm) to 11" (279mm).  Multiple PSD's can also be configured for larger duct sizes and large filter banks.
Performance Enhancing
Ruskin PSD dampers are built with our exclusive slide bar linkage which reduces torque and saves energy by requiring fewer actuators than competitive designs.  The single dish-shaped blade is sealed to the perimeter of the airway opening using a 1/4" (6mm) thick closed-cell, neoprene gasket.  Once the linkage locks into position, the system pressure against the face of the blade will further induce force against the seal ensuring isolation and sealing performance.
The Ruskin PSD blade design is a key feature of damper performance.  The blade is a spun metal dish, which provides greater natural resistance to pressure over their flat blade counterparts.  Standard construction is galvanized steel and like all other in airstream components, it can be made of stainless steel.
Actuation Options
For applications with long periods of time between filter change-outs, the most cost-effective PSD is manually operated with a worm gear operator and hand wheel.  For powered operation, Ruskin provides factory-mounted electric or pneumatic actuators to fit your exact need.
Rectangular or Circular Ductwork
The Ruskin PSD is available in either square or round frames.  For multiple damper banks, square or rectangular frames are available.  Frames are fully sealed for system pressures up to 10" water gauge (2.5 kPa).  PSD's are suitable for both horizontal and vertical applications.  2" wide flanges are standard on the PSD and are available with Ruskin standard bolt hole sizes and patterns.  Ruskin can and will make bolt hole patterns to match your unique requirements as well.
Continued Success
Ruskin PSD design follows in the footsteps of previous isolation damper innovations including our highly specified BTR92 and BTO92 Bubble-Tight Round and Oval models which are used in systems with pressures up to 30" water gauge (7.47 kPa). 
To learn more about Ruskin's complete line of dampers, louvers and sound control products, visit our website at www.ruskin.com, or call 816-761-7476.
# # #