Four Ruskin louver models provide the answer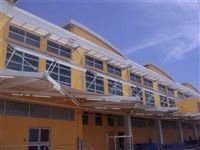 Ruskin models included the ELM6375DX, ELF6350DMP, ELF445DX and the Decorative Sun Shade System SSLBH4. The project challenged Ruskin's design and manufacturing team with a number of unique shapes and angles. Their professional services and attention to detail helped contribute to the seamless completion of this project.
Our complete line of decorative louvers and sunshades provide the ideal answer to many new construction challenges.
To learn more about Ruskin's complete line of dampers, louvers, air measuring and sound control products or to locate a Ruskin representative nearest you, visit our website at www.ruskin.com or call us at 816-761-7476.