Linear Flow Control Dampers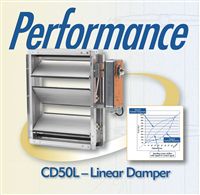 AMCA's InMotion Magazine highlights important industry issues and key solutions to today's HVAC problems.  In the Fall 2008 edition, Ruskin takes a look at linear and non-linear damper performance and explains how the air balancer can overcome obstacles when balancing the system.
Ruskin has been on the leading edge of linear flow technology for many years.  In addition to their CD403 invention 25 years ago, Ruskin's innovations have lead to numerous Indoor Air Quality Control and Air Measurement Damper and Louvers.
Our newest invention, the CD50L follows in this same tradition.  Through extensive testing in our AMCA accredited Research & Development Lab and as part of the ASHRAE research project on damper linear performance, the Ruskin CD50L when combined with a factory-programmed linear actuator, is a great choice for airflow balancing through the control damper.
In his AMCA article, Ruskin's Product Specialist, Ryan Lowe, explains how the new CD50L linear airflow damper works.  Many factors influence the performance of the damper's airflow.
Blade Action – parallel blade or opposed blade
Geometry of the System – represented by AMCA test methods
Damper Authority – the influence the damper pressure drop has on the system
Damper Construction – Single or Multiple section dampers with jackshafts
Taking all these factors into consideration is the key to producing linear flow.  Using the linear actuator together with the CD50L, linear airflow is achieved with respect to the control signal it receives.  
To learn more about Ruskin's complete line of commercial control dampers and other air and sound control products or to locate a Ruskin representative nearest you, visit our website at www.ruskin.com or call us at 816-761-7476